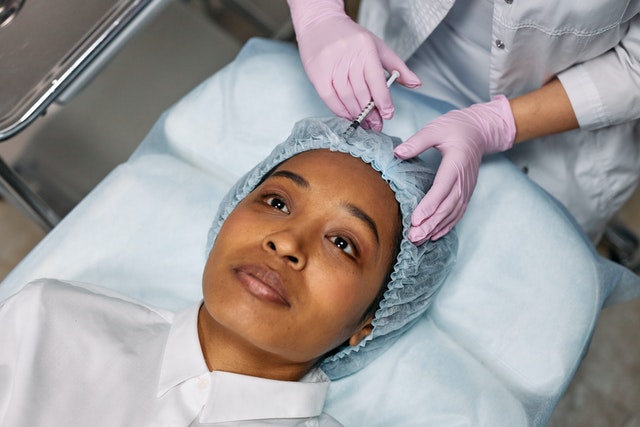 The society we live in views youthfulness as a sign of beauty. However, we can't evade the effects of aging. Despite our efforts to live healthy and stay young, years of sun exposure, age, and gravity soon take their toll, and the wrinkles set in. Botox, one of the most popular non-surgical solutions to aging, has been around for decades and keeps providing consistent results for patients.
Getting your Botox treatment for the first time can leave you nervous and conscious about your facial movements. While it is natural to feel concerned about your facial expressions, so you don't end up with an awkwardly frozen face, this concern is unwarranted. I'd be explaining why it is not only safe for you to do facial exercise post-injection but also medically advisable.
What is Botox?
The bacterium Clostridium botulinum releases a toxin branded as Botox. This toxin causes a very deadly condition known as botulism that can paralyze the muscles. When injected in minute portions, Botox works to block the nerve cells, keep muscles from contracting and thus helps to reduce the appearance of wrinkles and prevent new ones from coming up.
Botox treatments are also effective in treating lazy eyes, neck spasms, overactive bladder and some other ailments like migraine. It clears out fine lines and wrinkles safely and effectively, giving you a youthful appearance that lasts for months.
These effects take about four days to become evident as the process is relatively slow. Facial exercises have proven to speed up its operation and allow the toxin to work faster.
Facial Exercises Accelerates Botox Results
Botox treatments take about three to four days to become evident. In emergencies, where patients come in for a quick Botox treatment before an important event, this might be a problem. Simple facial exercises have proven to be very effective in speeding up the Botox effect. These exercises help the toxin bind up the receptor cells sooner, allowing the muscles to relax faster.
However, Many Doctors have questioned this conventional wisdom claiming that these exercises make no difference-making it fall out of favor.
The Benefit of Facial Exercises Post-injection
The Northwestern University Feinberg School of Medicine conducted a recent study showing you the effect of facial exercises on Botox treatments. According to this study, facial muscle exercise can speed up the wrinkle-reducing effect of Botox to about one day instead of the usual three to four days.
"Patients often leave getting their Botox to the last minute," said lead study author Dr. Murad Alam, professor of dermatology at Northwestern University Feinberg School of Medicine and a Northwestern Medicine physician. "If people get their botulinum toxin right before a social engagement or important work event, they may worry it won't start working in time. Speeding up the effects could be important to people." He explained that since there was no well-designed study that compared the effect of the exercise and no exercise, they decided to do one.
Dr. Alam wanted to see if facial muscle exercises helped as conventional practices suggested. Especially for those who had to wait until the last minute to get their treatment.
The Study
Alam enrolled 22 adult women sprouting forehead wrinkles. He treated all with botulinum toxin. Half of these women underwent facial exercises. They raised their foreheads and made scowls while knitting the brows in three sets of 40 repetitions separated by 10 minutes for a total of four hours, and the other half did nothing.
After the first treatment, the participants were observed. Both participants and clinicians discovered that fine lines and wrinkles were reduced within two to three days for those who did the exercises. The effect took as long as three to four days for those that didn't. It showed that facial exercises gave results one day sooner than when it isn't performed.
Dr. Alam explained, "It's useful to know that it can be sped up. It's pretty easy to do, not a lot of work, it doesn't take much time either."
The participants were studied for another two weeks, after which there was no difference in either group. There was no difference in how long the treatment lasted in both groups. The benefit was majorly how quickly the wrinkles reduced.
To reduce bias and improve the consistency of his findings, Dr. Alam retreated the participants six months later. This time he reversed the experiment. Those who had exercised last time now avoided facial exercises, and the others are performing exercises. At the end of the investigation, 69% of the participants believed facial movement relaxed the muscles and reduced wrinkles faster. 59% found the facial exercises very easy to perform.
"For patients who need quick results, the exercise may be worth the effort. Patients appreciate having more control over their care," Dr. Alam says.
Do's and Don'ts After Botox Treatment
Facial exercises have been approved to be best after a botox session. However, there are certain things you shouldn't do to get the optimal result. Here are some do's and don't's of post-Botox treatment.
Don't: Do not rub your face for 24 hours.
Post-injection, you need to avoid rubbing your face or applying pressure on it for about 24 hours. Doing this could cause the toxin to move to an unintended area. This can cause unsatisfactory effects like sagging eyelids or nerve damage.
Do: Try facial exercises.
During the first hours post-treatment, make pronounced facial expressions, such as frowning, smiling and raising your eyebrows and forehead. Facial exercises after Botox treatment boosts the Botox and make it work faster.
Don't: Do not exercise straight away.
It is advised that patients avoid any strenuous activity for about 24 hours after Botox treatment. Such movements may cause bruising on areas injected with Botox. You risk the toxin spreading to muscles it shouldn't be touching. So, cancel that exercise class and put your feet up.
Do: Take notes of side effects.
If you should experience any unusual side effects after your Botox procedure, seek your Botox practitioner and explain your experience. They will be able to give you the best advice.
Don't: Do not engage in activities that put pressure on your head.
Activities like swimming, performing inversions, bending down, and any other that might apply pressure to your head should be avoided. Stress on your treated area can move your Botox around and strengthen your chances of bruising.
Do: Avoid getting overly heated.
Avoid getting too hot for about 48 hours after the treatment. It would be best to avoid strenuous exercise, drinking alcohol, hot weather, sauna, and the steam room. Heat increases blood flow which would reduce the effect of Botox.
Don't: Do not book any big event for the first few days.
Avoid booking any big event for the first few days. You will experience side effects like swelling, redness or bruising around the treated area. Though this varies from person to person and might not last very long for you, it is better to be prepared.
Do: Avoid strong painkillers.
Avoid strong painkillers after your procedure. If you experience any pain, consult your doctor. These painkillers are not crucial with non-invasive procedures like Botox. Applying an ice pack to the area can help reduce bruising.
Summary
Botox is an effective cosmetic procedure that helps clear out wrinkles and leaves you with younger and vibrant skin. To get the most benefits, it's up to you to follow your doctor's post-treatment advice.
After receiving a botox treatment, there are several things that a patient is advised to do and not do. Facial exercises have been highly recommended as study has shown it is very effective in ensuring a faster response from the treatment. Massaging or applying pressure on the skin can cause bruises and have other adverse effects on botox.
It would help if you avoided other activities like partaking in strenuous exercise for the first 24 hours after treatment. This is to protect the patient from harmful impacts to the botox or bruising of the skin. Staying away from the gym for the day might be difficult for some people, but it's worth ensuring good results.
Side effects of Botox treatment might include:
Headache or flu-like symptoms
Droopy eyelid or cockeyed eyebrows
Crooked smile or drooling
Eye dryness or excessive tearing
However, consult your doctor immediately if you experience severe side effects like trouble breathing, blisters, or intense swelling.