Cynthia Rowland is well-known by facial exercise practitioners, as she has appeared on many TV and radio chat shows,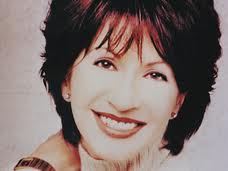 as well as given interviews for well-read newspapers such as the New York Daily News and the Los Angeles Times.
You may have also seen ads for her "Facial Magic" products on TV.
A clever and astute business woman, Cynthia Rowland has created a successful company called Renenuve Inc, and as well as selling her facial exercise book and video, she also offers a wide rage of excellent skin care creams and anti-aging lotions.
The Cynthia Rowland facial exercise range has recently expanded, as Cynthia has introduced the Luscious Lips Device which you place over your lips, and extend the vaccum pump. This brings blood into the lip area, and instantly puffs the lips out, giving them a more youthful appearance.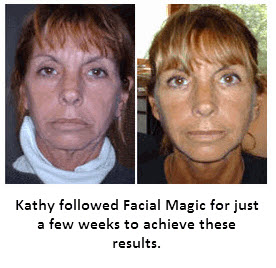 On her website, Cynthia promotes her products in packs, which works out cheaper than buying each product individually. However, if you wanted to purchase Cynthia Rowland items without creams or other props, they can sometimes be found at a reasonable price on eBay.
Warning: If you want to learn Cynthia's facial exercises you should purchase her DVD. She gives excellent instructions, and some of the exercises require exact finger placement to be effective. When executed correctly, Cynthia's DVD exercise program is extremely powerful! However, her book "Facial Magic" does not offer instructions – it just talks about facial exercise and the benefits, so don't buy the book alone if you wish to learn the routines.
To see just how potent this program is, see the Cynthia Rowland Facial Exercise "before and after" photos on her site.
The video below demonstrates an example Cynthia Rowland facial exercise. This exercise will quickly lift drooping eyelids. If you ONLY do this exercise, ignoring all other parts of the face, I guarantee within just a week you will start to receive compliments.
Cynthia Rowland Facial Exercise Example Video
Cynthia Rowland Facial Exercise Products
By clicking on any of the products below, you will be taken to Cynthia Rowland's website.


3 Pair of Gloves – Fresh Gloves for your Facial Magic Exercise Program
Price: 6.95
Retail Price: 0.00
3 Pair of Gloves – Fresh Gloves for your Facial Magic Exercise Program...Read More

Facial Magic Basic Kit (DVD)
Price: 59.95
Retail Price: 0.00
Facial Magic Basic Kit includes one 60-minute VHS or DVD, one jar Daily Lift, one pair of exercise gloves and the Success Booklet. DVD (available in English and Spanish), VHS (English only) US $59.95…Read More

Facial Magic Basic Kit (DVD) & 1 spare lip pump
Price: 89.90
Retail Price: 0.00
Facial Magic Basic Kit includes one 60-minute VHS or DVD, one jar Daily Lift, one pair of exercise gloves and the Success Booklet. DVD (available in English and Spanish), VHS (English only) US $89.90 Also includes 1 spare lip pump…Read More

Facial Magic Basic Kit (VHS)
Price: 59.95
Retail Price: 0.00
Facial Magic Basic Kit includes one 60-minute VHS or DVD, one jar Daily Lift, one pair of exercise gloves and the Success Booklet. DVD (available in English and Spanish), VHS (English only) US $59.95…Read More

Facial Magic Basic Kit (VHS) & 1 spare lip pump
Price: 89.90
Retail Price: 0.00
Facial Magic Basic Kit includes one 60-minute VHS or DVD, one jar Daily Lift, one pair of exercise gloves and the Success Booklet. DVD (available in English and Spanish), VHS (English only) US $89.90 Also includes 1 spare lip pump…Read More

Facial Magic Bonus Kit (DVD)
Price: 189.95
Retail Price: 0.00
Facial Magic Bonus Kit This premium package includes the following: Facial Magic VHS (English only) or DVD (English and Spanish) 64 page Facial Magic Success Booklet The Counting CD 3 pair exercise gloves 2-1oz. Facial Magic DailyLift F…Read More

Facial Magic Bonus Kit (DVD) w/spare lip pump
Price: 219.90
Retail Price: 0.00
Facial Magic Bonus Kit This premium package includes the following: Facial Magic VHS (English Only) or DVD (English and Spanish) 64 page Facial Magic Success Booklet The Counting CD 3 pair exercise gloves 2-1oz. Facial Magic DailyLift F…Read More

Facial Magic Bonus Kit (VHS)
Price: 189.95
Retail Price: 0.00
Facial Magic Bonus Kit This premium package includes the following: Facial Magic VHS (English only) or DVD (English and Spanish) 64 page Facial Magic Success Booklet The Counting CD 3 pair exercise gloves 2-1oz. Facial Magic DailyLift F…Read More

Facial Magic Bonus Kit (VHS) w/spare lip pump
Price: 219.90
Retail Price: 0.00
Facial Magic Bonus Kit This premium package includes the following: Facial Magic VHS (English Only) or DVD (English and Spanish) 64 page Facial Magic Success Booklet The Counting CD 3 pair exercise gloves 2-1oz. Facial Magic DailyLift F…Read More

Facial Magic Daytime Skin Nutrition- 2 oz.
Price: 44.95
Retail Price: 0.00
Facial Magic Daytime Skin Nutrition Nourishing for lasting hydration Rich formula Reduces fine lines instantly This luxurious face cream instantly hydrates and rejuvenates the skin. Our daytime moisturizer acts as a wrinkle defense under make…Read More

Facial Magic Deep Cleansing Gel
Price: 14.95
Retail Price: 0.00
Facial Magic Deep Cleansing Gel Gentle, detergent free Use morning and night Rinses clean, no residue Cleanses away makeup and impurities without detergent. Bathe your face in our gentle foaming gel with lipoproteins that purify your skin as i…Read More

Facial Magic Overnight Sensation – 2 oz.
Price: 44.95
Retail Price: 0.00
Facial Magic Overnight Sensation Nighttime hydration Nourishing and rich formula Allows your skin to "breathe" Our overnight tissue regenerator contains live yeast cells and super oxide dimutase that supplies oxygen to the tissues for enriched…Read More

Facial Magic Retinol 40 Anti-Wrinkle
Price: 39.95
Retail Price: 0.00
Facial Magic Retinol 40 Anti-Wrinkle Accelerates exfoliation Smoothes fine lines & wrinkles Enhances skin texture Our formula helps smooth lines & wrinkles, correct pigmentation, reduce oiliness and acne, eliminate roughness and stimulates col…Read More

Facial Magic Spa Kit (DVD)
Price: 229.95
Retail Price: 0.00
Facial Magic Spa Kit- Available in either DVD or VHS (English and Spanish)…Read More

Facial Magic Spa Kit (DVD) & 1 Spare Lip Pump
Price: 259.90
Retail Price: 0.00
Facial Magic Spa Kit in DVD or VHS (English & Spanish). Also includes 1 spare lip pump in this package choice….Read More

Facial Magic Spa Kit (VHS)
Price: 229.95
Retail Price: 0.00
Facial Magic Spa Kit- Available in either DVD or VHS (English and Spanish)…Read More

Facial Magic Spa Kit (VHS) & 1 Spare Lip Pump
Price: 259.90
Retail Price: 0.00
Facial Magic Spa Kit in DVD or VHS (English & Spanish). Also includes 1 spare lip pump in this package choice….Read More

Facial Magic Starter Kit (DVD)
Price: 99.95
Retail Price: 0.00
Facial Magic Starter Kit This package includes the following: Facial Magic VHS (English only) or DVD (English and Spanish) 64 page Facial Magic Success Booklet The Counting CD 3 pair exercise gloves 2-1oz. Facial Magic DailyLift…Read More

Facial Magic Starter Kit (VHS)
Price: 99.95
Retail Price: 0.00
Facial Magic Starter Kit This package includes the following: Facial Magic VHS (English only) or DVD (English and Spanish) 64 page Facial Magic Success Booklet The Counting CD 3 pair exercise gloves 2-1oz. Facial Magic DailyLift…Read More

Facial Magic Starter Kit (VHS) w/Spare Lip Pump
Price: 129.90
Retail Price: 0.00
Facial Magic Starter Kit This package includes the following: Facial Magic VHS (English only) or DVD (English and Spanish) 64 page Facial Magic Success Booklet The Counting CD 3 pair exercise gloves 2-1oz. Facial Magic DailyLift…Read More

Facial Magic Starter Kit(DVD) w/Spare Lip Pump
Price: 129.90
Retail Price: 0.00
Facial Magic Starter Kit This package includes the following: Facial Magic VHS (English only) or DVD (English and Spanish) 64 page Facial Magic Success Booklet The Counting CD 3 pair exercise gloves 2-1oz. Facial Magic DailyLift…Read More

Facial Magic Under Eye Nourisher- 5 oz.
Price: 24.95
Retail Price: 0.00
Facial Magic Under Eye Nourisher Deep hydration for your delicate eye area. Light reflecting properties diminish the appearance of fine lines & wrinkles. Visibly diminish puffiness, under eye circles and fine lines using our UnderEye Nourisher tha…Read More

Facial Magic Vitamin C Serum – 1 oz.
Price: 34.95
Retail Price: 0.00
Facial Magic Vitamin C Serum Collagen booster/Cell renewal Lightens & brightens your skin Diminishes fine lines & wrinkles Our rejuvenating formula improves skin's tone and texture on contact. Apply this anti-aging serum morning and night to…Read More