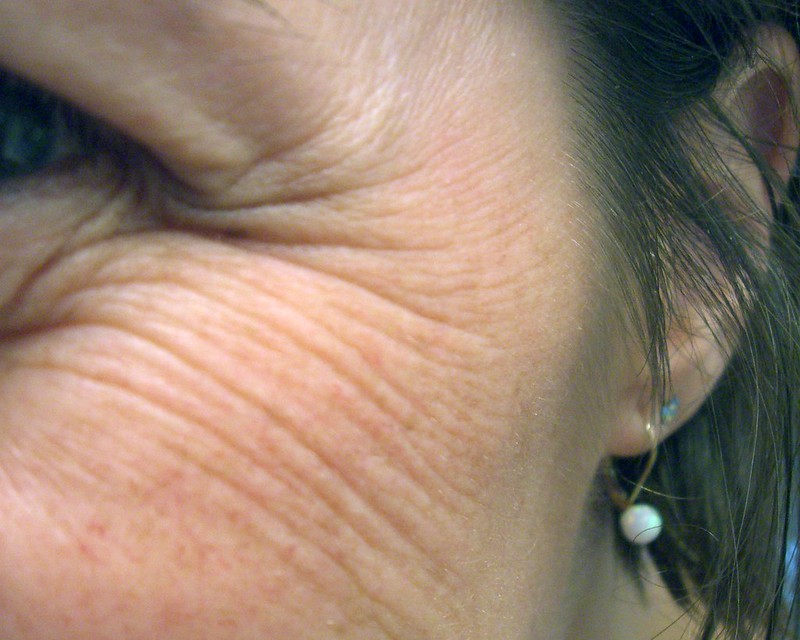 A facial exercise program is an excellent way to help improve the appearance of aging.
You may find as you get older, that your skin will not be as firm as in your younger years. You may also see fine lines and wrinkles start to appear in places you never suspected aging to occur.
The results of doing facial exercises can be subtle at first, but if you are consistent and perform them for a length of time, you will see a difference.
This article reveals that you can gain strength in your face in about a month's time by exercising it about ten minutes a day. After around six months, you can look up to twenty years younger, according to the same article.
Let's take a closer look at signs you should consider a facial exercise program:
1. Crows Feet
Over time, our faces and eyes make lots of tiny movements, which contribute to fine lines and wrinkles around the outside of the eyes. These lines are commonly referred to as crows feet.
Sun damage is another cause for these tell-tale wrinkles.
You can help combat crows feet by doing this easy facial exercise, that is discussed in this article:
This exercise doesn't involve touching the face. Simply close your eyes. Make sure your eyelids are relaxed. Then quickly look up and down with your eyes closed, ten times.
Next, move your eyes under your eyelids, back and forth ten times. Repeat this three times for a minimum of once per day.
2. A Facial Exercise Program For Sagging Jowls
As we get older, our skin becomes thinner and loses the natural plumpness we once had in our youth. Bone loss is also another factor that can contribute to sagging jowls down the sides of the mouth.
Tighten them up by holding your head back, pointing your chin up, as high as it will go. Extend lips and hold for five seconds. Repeat five times daily.
3. Forehead Wrinkles
Stress, sun exposure, age and genetics all play a part in the development of forehead wrinkles. These horizontal lines can start out faint and become much deeper over time.
An easy way to exercise these obnoxious lines away is by laying your head just over the side of the bed.
Next, open your eyes as wide as they can go, while simultaneously raising your eyebrows as far as they can. Hold this position for five seconds. Repeat five to ten times, while relaxing your face in between movements.
4. A Facial Exercise Program For Lip Wrinkles
Faint lines or deep wrinkles around the mouth are common as we get older. If you have been noticing a change in the texture of your skin in this area, try doing the "O" facial exercise that this article reveals.
All you have to do is cover your teeth with your lips and open your mouth as far it will go into an "O" shape. While doing this, smile as wide as you can, while keeping your teeth covered with your lips. Slowly go back to the original position and repeat six times.
Conclusion
It is obvious that a facial exercise program is beneficial to keeping your age a secret. Although, you must realize that it is not the only method you should use to reverse the hands of time.
One of the most important factors is to protect your skin from the harmful UV rays of the sun. To do this, you should always wear sunscreen with a minimum of 30 SPF. You should also reapply it as directed on the bottle. In addition, wearing a wide-brimmed hat and sunglasses will further protect the delicate skin on the face, neck, and around the eyes.
For further reading, check out: 5 Winter Skin Care Tips To Prevent Dryness and Laugh Lines – 5 Tips To Reduce Them.
Image: Flickr