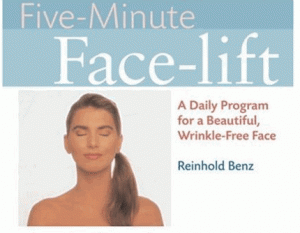 Reinhold Benz's Five Minute Face Lift is a facial exercise book that is extremely good value for the low price, as it contains very clear, large color photographs. Although they cannot explain the exercises as well as if you were watching a facial exercise DVD, they are probably the next best thing.
It is a somewhat of an exaggeration to say the exercises can be done in 5 minutes, because there are a total of 21 exercises that cover all areas of the face and neck. Given that each one takes around 30 seconds, that would be 10 minutes if you were to rush onto one exercise immediately after the other, which is not usually the case. However, like with most facial exercise programs you will probably find there are some exercises you prefer over others; and may decide to omit some of them. Either way, it is certainly possible to complete nearly all the exercises in around ten minutes.
This facial exercise book also contains very good diagrams of how each muscle you are exercising is positioned in the face, which helps you visualize the facial muscles working as you do each exercise. This is an excellent way to get faster results from any facial exercise program.
All in all, "Five Minute Face Lift" is a great book if you are starting out with facial exercise and would like to test the waters without spending too much money.
Five Minute Face Lift Reviews
[amzn_product_post]