At the time of writing Eva Fraser is 82 years old-but according to various reports by those who have met her, she appears to be a woman in her sixties.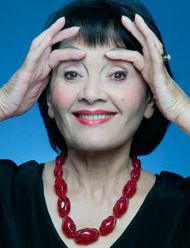 The good news for anyone who might be wondering of they have left it too late to benefit from facial exercise is that Eva did not start exercising her face muscles until she was 50, after meeting Madame Hoffman, who was a facial exercise practitioner in Germany. Eva trained for a year with Madame Hoffman, and was the only person to be taught by her.
With the help of staff, Eva teaches her techniques from The Eva Fraser Facial Fitness Centre, which is situated in London's swish Kensington. Her course consists of four 90-minute lessons, and each lesson builds on the previous one. Alternatively, for those who don't live in London, the center offers one 90-minute lesson to learn the basics of Eva Fraser's face exercise routine.
Although one-to-one lessons are an optimal way to learn Eva's methods, you can also become versed sufficiently by reading her books. Although her book "Eva Fraser's Facial Workout" doesn't contain photographs, it has some very well drawn diagrams and instructions are detailed and precise.
Eva's methods aren't the quickest – if you often find yourself short of time, there are orher routines that can be finished more quickly, but her facial exercise course obviously works if you work it. Eva herself is proof of that.
The video below shows an interview with Eva Fraser and reveals more about her program. Scroll down for links to Facial Exercise by Eva Fraser books.
Facial Exercise by Eva Fraser Facial Exercise Products
[amzn_product_inline asin='0140147136′]
[amzn_product_inline asin='B00358G68E']
[amzn_product_inline asin='0140168168′]
[amzn_product_inline asin='067084389X']