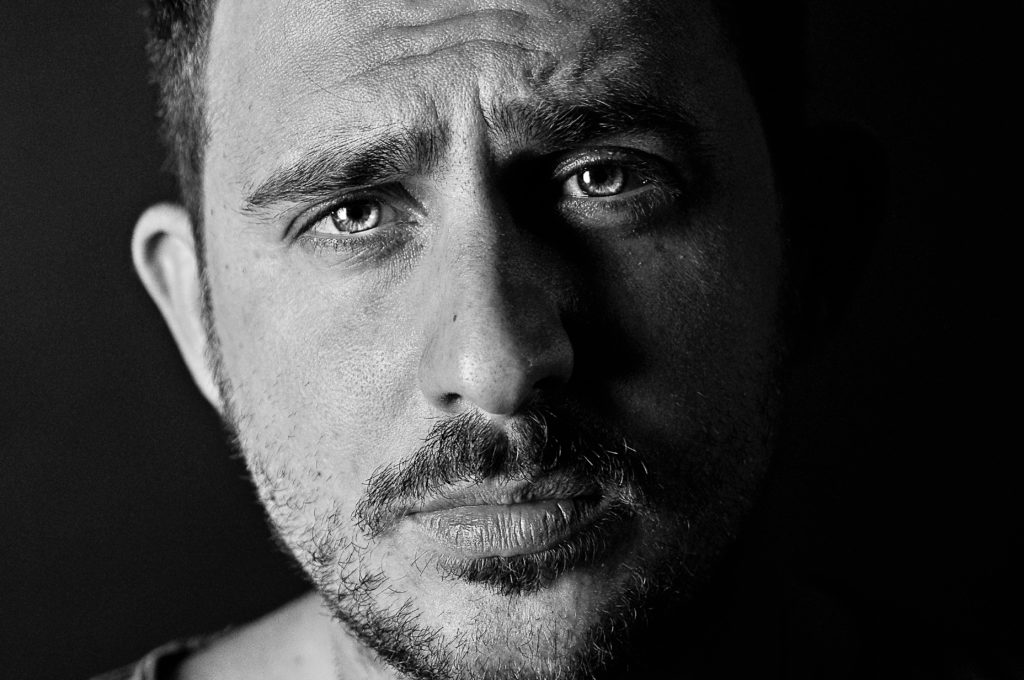 Facial exercises for men are becoming increasingly popular. Just like women, a man's face will gradually start to show signs of aging, as the years roll by.
Additionally, as men age, they can expect to see looser skin texture, along with some sagging and drooping facial skin. Fine lines and wrinkles start to appear, especially around the eyes, forehead and around the mouth.
One of the most noticeable signs of a man's aging, is the lack of definition in the jawline area. What once used to be a strong and masculine jaw, has now turned into a soft and loose area of skin. This can make men feel less confident in their appearance and lower their self esteem.
Luckily, there are several facial exercises for men that can help tighten the skin under the chin and around the jawline. There are also exercises for the other parts of the face, as well. By implementing them into your daily routine on a regular basis, you can help turn back the hands of time.
There are several reasons why men love facial exercises. First, they do not require any equipment, which means there is nothing to purchase. Another factor is that they don't take up much time and they can be done virtually any time of the day.
Let's take a look at a couple of facial exercises for men, that will help you look younger:
Cheek And Jaw Exercise
This article describes a fantastic facial exercise for men that targets the cheek, jawline and laugh lines. After you have done this exercise regularly for a while, your cheeks should start to look less full and your laugh lines should be smoother. This movement also will help make the jawline more prominent.
Relax your face, then puff up your top lip with air as full as it will go.
While keeping your mouth closed, slowly move the air from your lip to the top of your right cheek.
Slowly move the air bubble from the top of your right cheek to the top of your left cheek.
Repeat this movement eight times. Be sure you take a deep breath between sets.
Chin Firming Exercise
As recommended in this article, men can firm their sagging chins by doing the following simple exercise:
While sitting next to a table, place your fist under your chin and your elbow on the table.
Use your fist to create resistance as you try to open your mouth.
Hold this position for ten seconds and repeat ten times. Do this three times, for a total of thirty.
Conclusion
Incorporating facial exercises into a man's regimen on a daily basis, should start making those wrinkles and fine lines less noticeable. The jawline should begin to look more prominent and not as loose or saggy.
In order for the above exercises to show results, they need to be done consistently. To make it easier to remember, set an alarm on your cell phone for the times of day that are the most convenient for you.
Take photos of your face before you start the facial exercises. Once a week, take photos from the same angles and compare the difference. You should start to see signs of improvement within a few weeks.
In addition to facial exercises for men, there are other factors that can help reduce the signs of aging:
Stay out of the sun as much as possible and wear a sunscreen when you are outdoors.
To prevent crow's feet around the eyes, wear sunglasses when outside.
Eat a healthy diet that is rich in green, leafy vegetables.
Avoid sugar and processed foods as much as possible.
Stay hydrated, by drinking plenty of water.
Apply facial products which are designed for your skin type and targeted to your specific skin care needs.
For further reading, check out: Facial Tapping – What Are The Benefits And Does It Really Work? and The Best Anti-Aging Facial Exercises You Can Do At Home.
Image: Unsplash