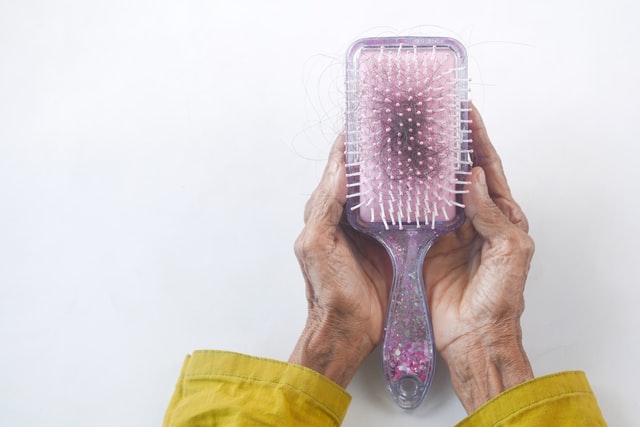 People who struggle with hair loss spend hours on the internet or in and out of experts' armchairs searching for a solution. Many things could cause hair loss and hair thinning. From poor diet to hormonal imbalances and toxic products, it's challenging to find the actual cause. Lately, people suspect that losing hair might result from the skincare products you use. So, can skin care products cause hair loss?
Keep reading to find out.
Truth vs. Fiction
Every scalp is unique. No two people can have the same skin composition, and it's important to note that each person will have a unique experience with the same skincare product.
One incident that claims skincare products cause hair loss was a shocking allegation against a popular skincare ingredient a few years ago. None other than the critically acclaimed acne annihilator, retinoid.
It refers to a class of chemicals derived from vitamin A, similar in structure and function, available in various forms, including retinol, retinal, and retinyl esters. They can be natural or manufactured.
Because of their beneficial effects on the skin and appearance, retinoids are a common active ingredient in many dermatological treatments and cosmetics. We have seen an exponential rise in using retinoids worldwide in recent years. Since becoming famous for helping with prevalent skin conditions like acne and pigmentary disorder, retinoid has become a hot seller in the skincare and beauty industry.
So, What Went Wrong?
In 2017, a Reddit user posted a critical review about a famous retinoid product, Tretinoin. According to the post, they noticed severe shedding while using the product. Several other users on the platform soon backed this claim, admitting that they saw significant hair loss after using the retinoid product.
What do experts think?
Experts have looked into this, and while there's very little science to back this up directly, they have found something worth noting.
Retinoid purportedly aids hair growth by keeping the scalp moisturized and healthy. However, when used excessively, whether through your diet or topically over a long period, it could cause hair brittleness and hair loss, including in the eyebrows.
While this isn't a direct link, this is the closest that skincare experts have come to linking skincare products to hair loss.
It is crucial to note that the lack of conclusive evidence is not evidence in itself, and you should remain cautious when creating a skincare regimen. The solution most times to avoiding tricky situations with your skin is keeping it simple, the correct type of moisturizer and facial exercises, to name a few.
What About Hair Care Products?
The hair products you apply are even likelier to influence your hair, positively or negatively. Many hair care brands tout their products to solve many hair problems that people face globally. The hair care and beauty industry is teeming with products that may or may not work for you, from shampoos and conditioners to special scalp treatments and sprays.
Can hair care products cause hair loss?
The answer is yes; hair care products can cause some hair loss. This is because cosmetic product formulators and scientists draw ingredients from a shared pool of ingredients that the appropriate regulatory bodies and authorities approve.
Depending on the hair product and the ingredients, some products could cause your hair to thin out and even fall off.
For example, dyeing and perming products contain potent chemicals that could weaken your follicles and strands. Eventually, your hair could get damaged and start falling out, especially if you misuse these products or for an extended period.
Suppose you're considering dying your hair or getting a perm. In that case, it's best to stay away from products with chemicals of unknown potency or leave it to a professional stylist to get it done. There are tons of natural dying options on the market that you can explore to ensure your hair's health while achieving your desired look.
Are shampoos and conditioners safe?
Shampoos, conditioners and other regular products are near harmless to your hair. This is not to say there aren't shampoo products with harsh content that could cause your hair to be brittle and dry, so keep an eye out for those when shopping. Products like this are the leading cause of hair breakage and, when left unchecked, can lead to severe hair loss.
What else causes hair loss
While losing hair due to your choice of skincare or hair care is not impossible, it is pretty improbable. The usual suspect is an allergic reaction to some component in the product that is by itself harmless to most people. Besides this, a couple of other factors can play a part in your hair loss. These factors can be internal or external, with internal factors largely uncontrollable like aging, hormonal fluctuations, and external factors featuring the changes in the weather.

Below is a comprehensive list of influencers who have a say in whether your hair grows.
1. Stress and Lifestyle
Stress affects your skin, alertness, mental capacity, and hair health. Your cortisol levels rise when stressed, leading to a myriad of responses in your body. For some people, hair shedding by a condition called "telogen effluvium." This condition disrupts the normal hair growth and shedding cycle, causing less hair to grow during the growth face and more hair to shed during the shedding phase.
2. Poor Diet
Your scalp comprises skin too, and your skin is an organ that needs nourishment to grow and perform its functions correctly. When you have a poor diet, you leave your skin and scalp predisposed to wear and tear from a lack of nutrients. A poor diet that leaves your scalp uncared for could cause your hair to fall out or shed.
3. Illness
Most cases of permanent hair loss are caused by genetics or illnesses. Sometimes, it's best to see a doctor if you notice unprecedented hair loss to determine if there's an underlying condition.
4. Aging
Everybody ages, and the body's structure and functions change as we do. Getting older alters the way your hair grows and sheds. It is common to find that your hair stops growing as fast as it and sheds more.
5. Pregnancy or Menopause
Hormonal imbalances and changes affect not only your skin, but they can also affect your hair growth cycle. Sometimes, pregnancy or menopause may cause telogen effluvium, increasing shedding and decreasing growth.
6. Over Manipulation
Aggressive brushing, constant styling, and overuse of heating tools are common causes of hair loss. The hair strands are delicate and do not take kindly to being tugged at and manipulated into different styles constantly. Using excess products could also weaken your strands. Practice the habit of giving your hair a break from many hairstyles and wear it out in a comfortable low-tension style sometimes.
Everyone loves a nice, sleek ponytail or a slick-back bun. While these might look great, the problem lies in the tension these styles cause on your scalp. Pulling your hair tightly to fit in these hairstyles could do more harm than good, causing your hair to pull out or fall outright from the scalp.
7. Weather
Hot and cold months can damage your hair in different ways. The sun could cause your hair to dry out faster in the summer, leading to brittleness. A colder atmosphere will also strip the hair and scalp of moisture, causing dryness, brittleness, and breakage.
How can you treat hair loss?
Treatments for hair growth vary for different people with their different scalps, hair texture, and curl patterns. There are cosmetic products that claim to solve hair loss and over-the-counter medications available that may help.
Improving your hair care regimen with healthy products and staying consistent could do the trick. However, it is advised that you find out what's causing your hair loss. Visit a dermatologist and let them determine what the problem is.
Common treatments they may suggest include:
Minoxidil/Rogaine
Propecia
Aldactone
Avodart
Microneedling
Hair Transplant
Laser Therapy
Before you suspect your skincare products, ensure that you conduct a thorough search for any potential causes. If you notice any irritation, itching, or severe reactions to haircare or skincare products, discontinue use immediately and see a dermatologist.