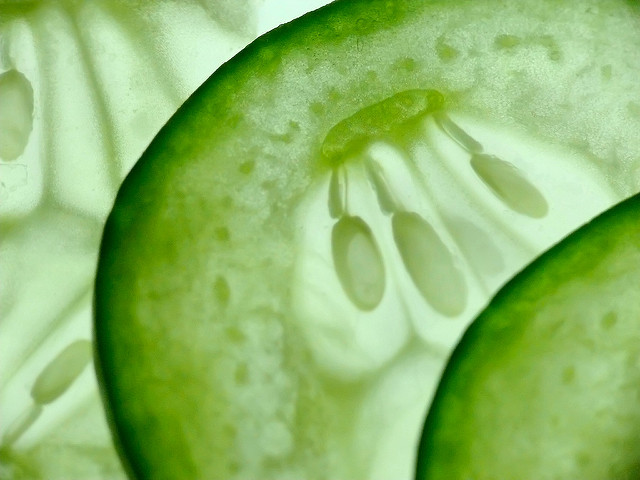 One of the first signs of aging can be seen in the eye area. The dreaded crow's feet start to appear on the outer corners of the eyes. You will eventually notice some fine lines starting to form under the eyes as well. It happens to all of us at one time or another.
There are many products on the market today that target the eye area and claim to banish wrinkles. The fact of the matter is, most of these products are very costly, full of chemicals and don't actually do what they say they will.
One way to combat this issue is to take matters into your own hands and make your own. The ingredients for the at home eye treatments listed below, are probably already in your pantry and refrigerator. You will also find that it is much more cost effective than purchasing skin products from the store.
Another bonus to making your own eye wrinkle treatments, is that they are natural and you are aware of the exact ingredients that go into each formula you create. You also won't have to worry about harsh chemicals that can often cause more harm than good.
Let's take a look at some simple at home recipes to help eliminate and prevent eye wrinkles:
1. Cucumber Slices
Our eyes often get puffy from allergies, crying or exhaustion. When this happens, the skin is stretched and will cause wrinkling under the eye.
Combat eye bags the old fashioned way and place cold cucumber slices over each eye. Lay down with the slices on the eyes for 10-20 minutes. The ascorbic and caffeic acid will help eliminate water retention that creates the under eye bags.
This is a tried and true method that has been around for decades. It really works!
2. Egg Whites
You can easily tighten the delicate skin under the eyes with an egg white eye mask. This is very simple and effective.
To make your egg white mask, combine one egg white, one teaspoon of milk and several drops of honey in a small bowl. You can also add several drops of Vitamin E extracted from a capsule.
Apply mixture under the eyes with a small brush and allow it to dry on the skin for 20-25 minutes. Gently remove with warm water and a soft cloth. Lay the wet cloth on the eye area so it dissolves the mask. Be careful not to pull or stretch the skin during removal.
3. Avocado
Avacados are rich in nutrients such as Vitamin C and E, which are amazing for the skin.
Vitamin C is needed for the skin to produce collagen, as well as to treat and prevent damage from the sun. Vitamin E assists in fighting free radicals that damage the skin. The hydration benefits from the monounsaturated fatty acids in the avocado helps to diminish fine lines.
To use, simply cut two slices of avocado, lie down and place them under the eye for 15-20 minutes. The avocado can also be mashed with a fork to release more of the nutrients and then applied with the fingertips or small brush.
When the time is up, gently use warm water and a soft wet cloth to wipe off any residue.
Conclusion
Try each of the above recipes and see which ones work the best for you. You may even want to alternate between several on them, depending on what ingredients you have on hand and what your intention is.
Take a few extra minutes a week to pamper yourself and care for your skin. Set aside 20-30 minutes of quiet time to apply your treatments and do your other beauty rituals. You will not only look better, but you will feel better too.
For further reading, check out: 3 Face Mask Recipes You Can Make At Home and 12 Hacks & Home Remedies To Naturally Prevent Wrinkles.
Image: Flickr