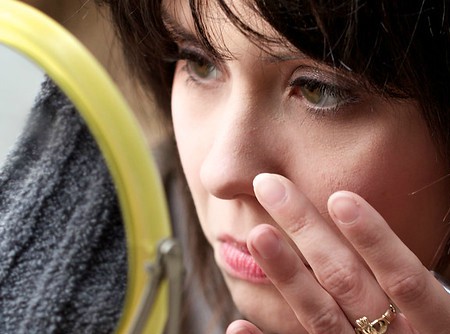 The growing popularity of facial exercising, has had its fair share of myths to go along with it.
First and foremost, you may be wondering what facial exercising actually is. To break it down simply, it is repetitive movements that target specific areas of the face and neck, to tone and tighten muscles, and smooth fine lines and wrinkles.
You may have found some naysayers that don't believe in the process of facial exercising. Myths have been circulating on how it is not effective. Determine for yourself whether it is for you, by reading the list of myths below.
Let's take a look at several myths that surround the topic of facial exercising:
Myth 1: Plastic surgery is the only way to tighten skin and make it look younger.
Plastic surgery is not only dangerous, but it is also extremely painful. You are putting yourself at risk of infection and worst case scenario, death, by subjecting yourself to unnecessary plastic surgery.
Even if you remove sagging skin around the neck or get a facelift, gravity will still take its toll. The skin will slowly start becoming looser again and the surgery will have to be repeated, to keep the same level of tautness.
After someone has had a few of these procedures, it alters their appearance entirely and they no longer look like themselves in the end.
When done properly and regularly, facial exercise is an healthy alternative to plastic surgery. This article shows a number of helpful facial exercises that will help contour the lips, firm the skin on your neck, plump the cheeks and slim your face.
Myth 2: Skin serums, moisturizers and creams are more beneficial than facial exercising.
The fact is, you should combine facial exercising with your skin care products for the best results.
The most effective and efficient way to do this, is to perform your facial massage, when applying your skin care products. This will give you the most benefits from each method and your products will better penetrate into your skin, as well.
Myth 3: Facial exercising is difficult.
Actually, you will find that facial exercising is very easy.
This article reveals that there are about twenty points on the face, where pressure is applied with the fingertips. You will just press and hold for many of the exercises and some movements don't include the hands at all.
The best way to start out your new routine, is to have a list of movements printed out next to you. Perform your exercises approximately for one minute on each area.
Repeat these movements daily. Before you know it, you will have them memorized and you will no longer need your cheat sheet.
Conclusion
Facial exercises must be performed daily over time to see results, you won't notice a change overnight. But with a little determination and patience, you will start to see a difference in your appearance. Your skin will look smoother and you will look more youthful.
To achieve the maximum benefits from facial exercising, you also should take care of your skin in other ways:
Eat a healthy diet that is rich in green, leafy vegetables.
Limit your intake of sugar and processed foods.
Stay hydrated by drinking plenty of water.
Protect your skin from the sun by wearing a sunscreen of 50 SPF or higher.
Use facial cleansers and other skin products that are specifically designed for your skin type.
Remove your makeup before going to bed at night.
For further reading, check out: How To Know If Your Facial Exercises Are Working and How To Achieve A Healthy Glow Without Getting Pregnant.