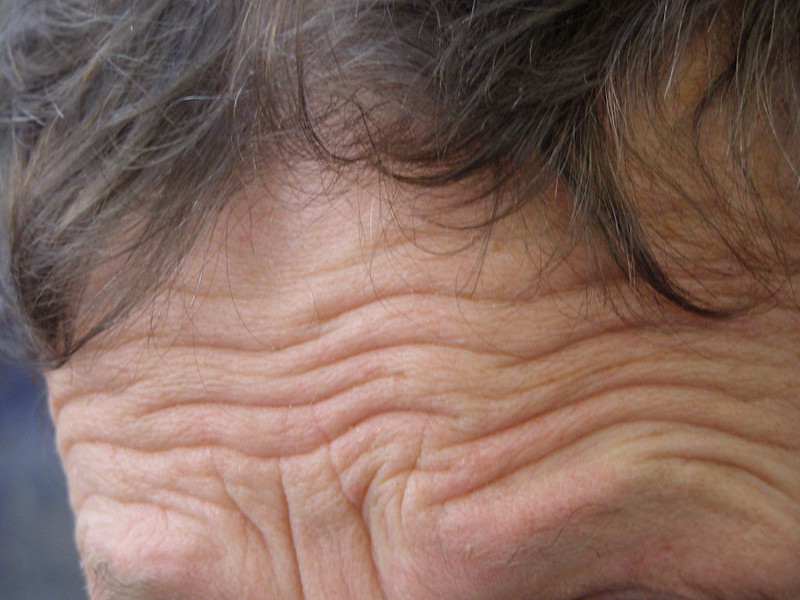 Forehead wrinkles can become quite noticeable as we get older. These horizontal lines are a tell tale sign that we are aging and most of us are looking for a way to avoid that at all costs.
So you may be asking yourself, "What are the causes of forehead wrinkles and is there any way to prevent them?"
This article reveals that there are a number of significant factors that contribute to the formation of these notorious lines on our face.
Forehead Wrinkles Causes
Not Avoiding The Sun
The ultra violet rays of the sun highly contribute to forehead wrinkles, because it diminishes the collagen and elastin in the skin. When this happens, the skin becomes less "plump" and then starts to wrinkle as it loses its fullness.
Fine lines will continue to get deeper over time if not treated quickly and appropriately.
Smoking Cigarettes
As reported in this study, smoking can be a major factor in the appearance of premature aging of the skin.
Similar to over exposure to the sun, the chemicals in cigarettes will greatly decrease the collagen and elastin in the skin. This is why many smokers tend to look older than they actually are.
Not Hydrating The Body
When your body is lacking water, so is your skin. When your skin is dehydrated, the wrinkles start to appear and you can start looking older almost instantly.
How To Stop Forehead Wrinkles
Drink Plenty Of Water
A nutritionist featured in this article, suggests that adults should drink half of their body weight in water to be fully hydrated.
Skin that is hydrated will look smoother and more plump when you have consumed enough water. It also will look brighter and overall more healthy.
Avoid the over use of alcohol. Drinking alcohol dehydrates the body and the skin and will cause a rapid increase in the aging process.
Moisturize The Skin
Not only should we internally hydrate our skin, but we should also topically hydrate it as well.
Apply products that enhance and seal in moisture to the skin. This should be in the form of serums, moisturizers and day and/or night creams
Stop Smoking Cigarettes
Quit smoking as soon as possible to reduce the effects that cigarettes have on the skin and your overall health.
Incorporate Facial Exercises Into Your Routine
Facial exercises can be beneficial to alleviating those pesky fine lines and wrinkles. You can target specific areas of the face, such as the forehead.
This article demonstrates how to easily give your face a workout.
Conclusion
As you can see, all hope is not lost and there are ways to help reduce the appearance of wrinkles on your forehead. Put the above mentioned tips into practice in your daily routine and you should start to see an improvement in no time!
For further reading, check out: Laugh Lines Diminish With The Help Of These 3 Steps and So, Which Way Is The Best To Wash Your Face, Hot Or Cold Water?
Image: Flickr