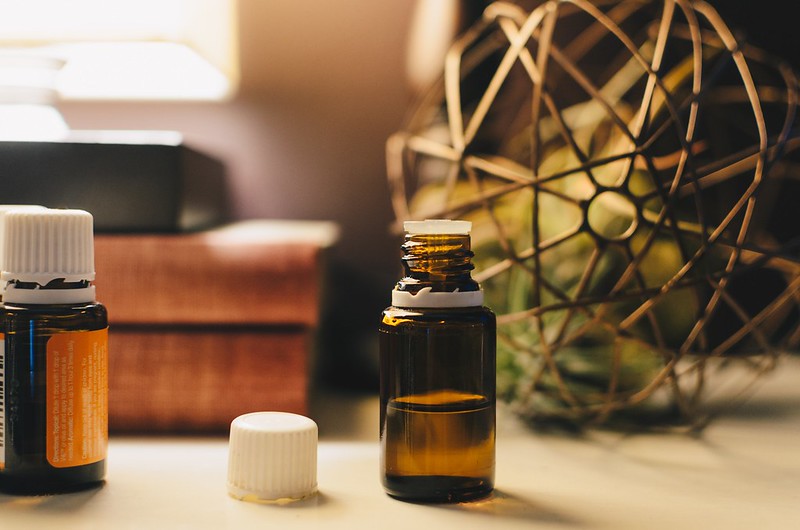 Aromatherapy for your face may be something you aren't familiar with. When most of us hear the term "aromatherapy", we think of putting essential oils in a diffuser and enjoying their scent.
Actually, there is much more to the science of aromatherapy than just using the oils in an olfactory sense. Essential oils can be extremely beneficial to the skin and can help support many different issues, such as dryness, inflammation and aging.
Always keep in mind that when putting any essential oil on the skin, you should always add it to a carrier oil first. A carrier oil will dilute the essential oil to prevent any irritation. An example of a carrier oil would be: grapeseed oil, rosehip seed oil, sunflower seed oil and jojoba oil.
Let's take a closer look at the essential oils for aromatherapy for your face:
Lavender Essential Oil
If you suffer from blemishes or acne prone skin, then lavender essential oil would be helpful for you. Lavender is known to help unclog pores, heal sores and reduce inflammation. It is also known to reduce fine lines on the skin.
This article recommends using lavender for acne in toner form. Simply put one teaspoon of witch hazel in a small bowl and add two drops of lavender essential oil to it. Mix it up and put on a cotton ball. Apply over your face, avoiding the eye area.
Clary Sage Essential Oil
If you are noticing aging and puffiness on your face, then clary sage essential oil may be a good choice for you.
According to this article, it is also known to regulate oil production in the skin, as well as help with acne prone skin.
Frankincense Essential Oil
Frankincense is one of the best oils you can find, because it has so many benefits. It isn't just aromatherapy for your face, it is also beneficial for the body and the mind.
When Frankincense is applied to the skin, it regenerates the collagen and skin cells, as well as improves elasticity. The skin will appear smoother and more youthful.
If there are any blemishes or sores on the face, you can use it to speed up the healing process.
Sandalwood Essential Oil
As we age, we will often see dark patches on our skin, otherwise known as hyperpigmentation. By using sandalwood oil on the skin, you can even out the skin tone and help lighten the dark spots.
Sandalwood also works very well to reduce the appearance of scars from acne or other skin injury.
If you suffer from inflammation from dryness of the skin, sandalwood is a great choice. Just add a couple of drops to your moisturizer before you apply it to your face.
Conclusion
Adding aromatherapy for your face is just one aspect of obtaining healthy skin. Be consistent in your skin care regimen and always use products that are designed for your skin type, whether it be dry, oily or combination.
One of the most important things you can do for your skin, is to always wear sunscreen when going outdoors. The ultra violet rays from the sun are extremely damaging to the skin. It will cause the elastin and collagen to decrease more rapidly, than if your skin was protected. There is also a much higher risk of skin cancer if it is not protected from the sun.
Always eat a healthy diet that is rich in green, leafy vegetables. Stay hydrated by drinking plenty of water. Avoid processed foods and sugars as well. If you follow those simple guidelines, you should see an improvement in your skin and you will appear more youthful.
For further reading, check out: How Rubbing Your Face Helps Reduce Acne and The Top 4 Foods That Age Your Skin.
Image: Flickr