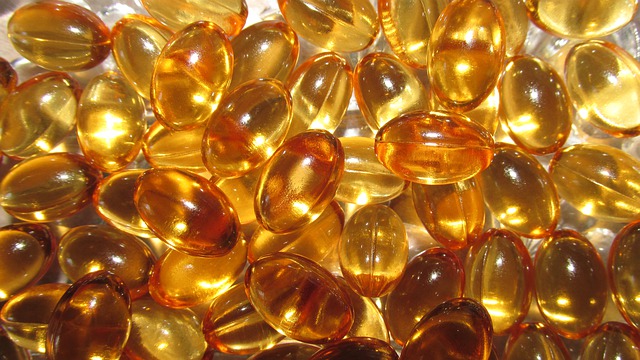 Vitamin E is an essential nutrient that can do wonders for the skin. Not only does it have anti aging benefits, but it can help nourish and heal the skin as well.
According to this study, Vitamin E has been used for over fifty years in the area of dermatology. It is derived from soybeans and is a grouping of eight fat soluble compounds.
This article reveals that Vitamin E is a powerful antioxidant that helps prevent cancers. The oil found in Vitamin E capsules can be applied directly to the skin.
It is a healthy supplement to add to your daily intake, but be sure to consult with your doctor before taking any vitamins or other supplements.
Let's take a closer look at the ways Vitamin E is beneficial for the skin:
1. An Excellent Moisturizer
The hydrating and moisturizing benefits of Vitamin E will help treat and eliminate dry skin.
Many topical products contain this amazing nutrient because of the healthy effects that it has on the skin.
2. Relieves Itching Of The Skin
Since Vitamin E is such a great moisturizer, it will help to relieve dry, flaking and itching skin. This can be done orally, by taking a supplement or by using topical products which contain the vitamin.
3. Helps Prevent Fine Lines And Wrinkles
Another benefit to having well moisturized skin, is that there is little or no dryness. When our skin is dry, we are more prone to fine lines and wrinkles, which make us appear older than we actually are.
Always keep your skin as hydrated as possible to prevent premature aging.
4. Helps Improve Atopic Dermatitis
This study reveals that taking oral 400 IU of Vitamin E, helps to improve atopic dermatitis. Some of the symptoms of this condition are itching, eczema, dry skin and thickening of the skin.
5. Can Be Used As A Sunburn Treatment
If are experiencing a sunburn, apply topical lotions that contain Vitamin E. This can help speed up the healing of the epidermis layer of the skin and prevent further damage.
Make Sure You Do A Patch Test!
As with anything that you apply to your skin, you should first do a patch test, to ensure that you don't have any allergic reactions. This is a simple and safe way to protect yourself.
To do the patch test, all you have to do is take a small amount of the Vitamin E oil, or whatever you are testing, and put it on a cotton swab.
Apply it to an inconspicuous place on your body, such as behind you knee or ear. Dab a small amount on the skin and observe it 24-48 hours later. If there is no redness or itching, you are most likely not allergic to it.
Conclusion
In addition to incorporating Vitamin E in your skin care regimen, there are more ways to help create and maintain healthy skin.
The most important thing to do for your skin is to protect it from the ultra violet rays of the sun. To do this, always wear a sunscreen of at least 30 SPF when spending time outdoors. Apply it twenty minutes before stepping outside and reapply as needed.
You should also protect your face not only with sunscreen, but with sunglasses as well. This will help prevent crow's feet. It is also a good idea to apply a lip balm that has sunscreen in it, to protect the delicate skin on your lips.
For further reading, check out Why Your Skin Has Different Summer And Winter Needs and So Which Is Better To Wash Your Face, Hot Or Cold Water?