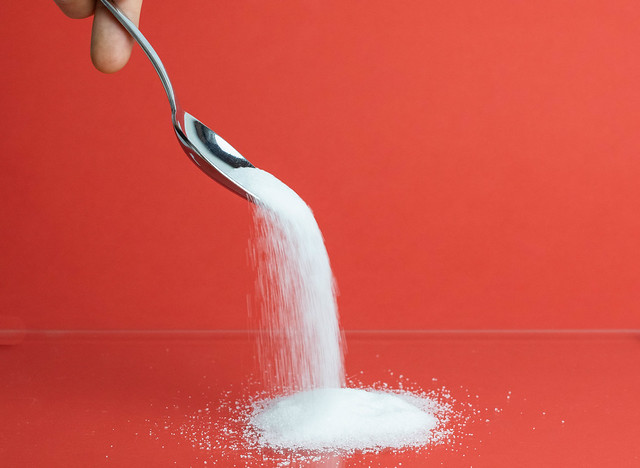 Many of us are familiar with the saying, "You are what you eat." Keeping that in mind, think about how much sugar you are personally ingesting. You could be contributing to speeding up the aging process on your body, without even knowing it.
Weight gain is usually the first thing that comes to mind when we consider the results of eating large amounts of sugar. It is definitely a proven fact, but there are also some other detrimental effects that sugar can have on our bodies.
Let's take a look at what sugar does to make you look older:
Ages The Appearance Of Skin
This medical study states that loss of elasticity and sagging skin are impacted by diet, due to the changes in the collagen and elastic fibers that help make up the skin. It also states, that when sugar is ingested, a process called glycation takes place in the body.
During the glycation process, there are structural changes in the skin, which cause signs of aging, such as loss of elasticity. Reducing or eliminating processed sugars and refined carbohydrates, is one of the best ways to combat looking older.
Adding herbs and spices, such as oregano, cinnamon, cloves, ginger, and garlic will also help inhibit the glycation process. Be sure to add them to your diet for another way to combat wrinkles.
Lowers Human Growth Hormone Levels
Human Growth Hormone (HGH) is a natural hormone in our bodies that keeps us looking youthful. When we eat excess amounts of sugar, our Human Growth Hormone is decreased. If that way of eating becomes a habit over time, then our levels will be extremely low and will make us look older.
This article lists the many benefits of keeping a high HGH level. For example, it helps regulate body composition, muscle and bone growth, and the metabolism of fat. Each of these factors contribute to our overall health and keep us looking younger, for a longer period of time.
Takes A Toll On Teeth
Dental health is very important in keeping a bright, white smile. Those white smiles also will keep you looking younger. If your teeth are filled with decay or cavities, it takes away from your youthful appearance.
This article reveals that there are several types of bacteria in the mouth that produce acid whenever we eat sugar. This acid will essentially remove minerals from the tooth enamel, causing it to break down. The name for this process is "demineralization".
Minimizing the your intake of sugar, along with brushing after ingesting anything sugary, will keep your smile bright and young looking for many years to come.
Conclusion
It is evident that a healthy diet that contains a limited amount of sugar, is one of the best defenses against aging and disease.
Your body will look and feel better by eliminating the most sugar from your diet as possible. Replace it with healthy fruits and vegetables. This article lists a variety of dessert recipes that don't contain refined sugar, for those days when you still have a sweet tooth.
In addition to reducing or eliminating sugar in your diet, try incorporating facial exercise into your daily routine. Doing so, will help firm up the skin on your face, neck and chin. You can also help reduce signs of aging around the eye, forehead or lip area.
Also keep in mind to drink plenty of water, to prevent getting dehydrated. When your body is dehydrated, your skin is as well. When your skin is dehydrated, there will be more wrinkles and you will look older.
For further reading, check out: 6 Things You Can Do To Help You Look Younger and Doing These Facial Exercises Will Give Maximum Change.
Image: Flickr