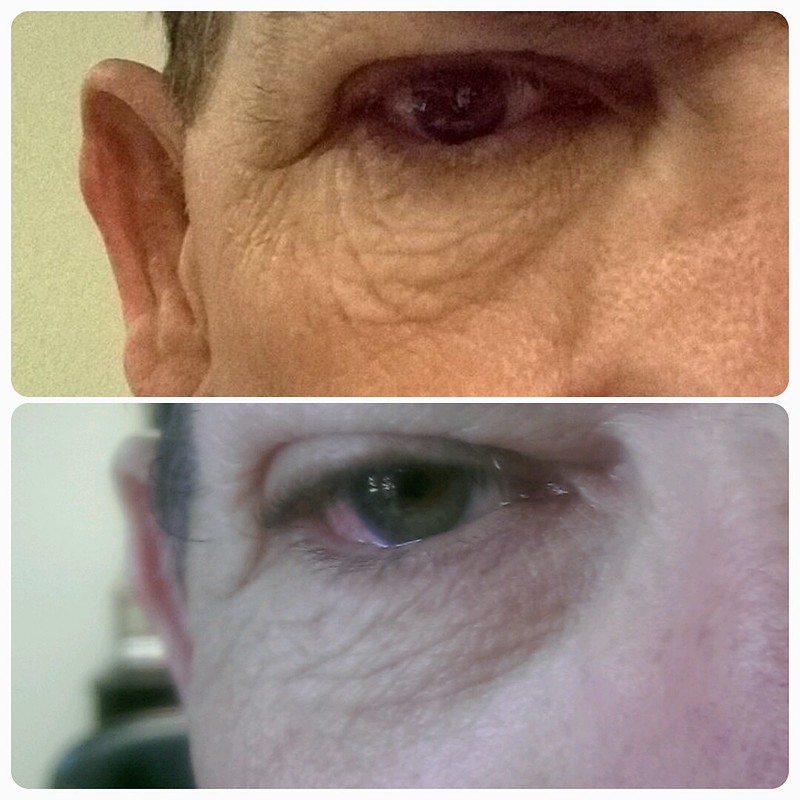 Under eye bags sometimes appear out of nowhere. One morning, you just look in the mirror and the area beneath your eyes is puffy and you look like you have aged overnight. This can be very shocking, if you aren't aware of the reasons behind it.
Under eye bags can be caused by a number of things:
This article suggests that one of the main reasons bags under the eyes are formed, is due to the decrease in fat in that area. As we get older, the skin becomes thinner and any fluid that builds up beneath it, is much more noticeable.
Another reason one may suddenly notice under eye bags, is the onset of allergies or a cold. The excess fluid and congestion will settle around the eye area, causing puffiness. Crying will also leave us with puffy eyes.
Lack of sleep also contributes to under eye bags. Smoking has also been linked to this condition, as well.
If you eat a meal high in sodium, you may also notice water retention in your body as well as in your face, especially around the eye region.
Now, that we know the causes of under eye bags, let's take a closer look at how to eliminate them:
1. Get Enough Sleep
Lack of sleep, definitely contributes to under eye bags. Adults should aim for a minimum of 7-9 hours of sleep per night, according to Mayo Clinic.
If you don't sleep enough, it will affect the muscles around your eyes, making them weaker. This will contribute to bags. Once you have caught up on your sleep, they should improve.
2. Adjust Your Sleep Position
When we sleep on our side or stomach, the fluid in our face will tend to settle under the eyes. The best way to stop this from happening, is to sleep on your back and put an extra pillow under your head, to prop it up.
3. Limit High Sodium Foods
If your diet consists of food that is high in salt content, such as potato chips, Chinese food or other salty treats, then you may be retaining fluid. This can build up under the eyes and creates puffiness and bags.
By limiting your intake of salt, you should reduce the appearance of under eye bags.
4. Protect Eyes From The Sun
The ultra violet rays of the sun will destroy the collagen in the skin. Collagen is what keeps the skin plump an youthful looking. As we age, the production of collagen slows down and that is one of the reasons we get sagging and wrinkled skin.
The same thing holds true for sun damage. Always protect your eyes from the sun by wearing sunglasses that have UV protection. A large brim hat will also help to shield your face and eyes from further exposure.
5. No More Cigarettes
Smoking cigarettes also contributes to the loss of collagen under the eyes, and other skin on your body. Smokers generally are more prone to under eye bags than non smokers. For your overall health, it is best to completely stop smoking.
Conclusion
By implementing the above tips into your daily lifestyle, you should be able to get control of your uder eye bags.
In addition, be sure to stay hydrated by drinking plenty of water. This will help flush out any toxins in the body, which will also add to puffiness.
Using an under eye serum which contains hyaluronic acid, will also help reduce the appearance of eye puffiness.
For further reading, check out: So, Which Is The Best To Wash Your Face, Hot Or Cold Water? and 5 Skin Care Resolutions You Can Keep This Year.
Image: Flickr