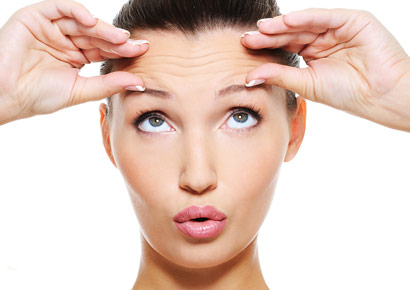 Facial exercises can work wonders if you want to look your best. Maybe you have a class reunion or special event coming up. If so, you can improve your appearance with a few simple movements.
The best part about facial exercise is that it requires no equipment and can be done conveniently throughout the day. It also doesn't take up a lot of time, so it should be a great option for most people who want to look their best.
Facial exercises are each targeted to work on specific areas of the face. If you are bothered by the wrinkles across your forehead, don't fear. There is an exercise for that.
Maybe your issue is more around the lip area. Look no further, you can help fine lip lines by implementing facial exercise into your daily routine.
Let's take a closer look at several facial exercises that will help you look younger:
Horizontal Forehead Lines
Forehead lines may be a hereditary trait. They may also be caused by overexposure to the sun or other unhealthy habits. These lines can be made less noticeable by doing the following exercise:
This article recommends a resistance exercise to help eliminate forehead wrinkles. To do this exercise,
Firmly place your fingertips at the top of each eyebrow arch.
Try to raise your eyebrows, while creating resistance with your fingers.
Hold this position for five seconds.
Relax your face and then repeat movement, for a total of ten times.
This massage exercise works well to release tension in the forehead muscles, which are creating the wrinkles.
This exercise can be done laying down or sitting up.
Use the knuckles on your hands to massage small circles across the forehead. Start the massage in the center of the forehead and work your way out towards the temples.
Continue the massage for up to three minutes. Doing so, will increase the blood flow, making the skin more vibrant, as well as more relaxed.
Vertical Lip Lines
This article reveals that this popular exercise works for eliminating fine lines around the lips, especially the top lip. It also works wonders for smoothing and firming the cheek and jaw areas, as well.
To do this exercise,
Lean your head back slightly.
Fold your lips over your teeth, making your mouth look like an "O".
While holding this position, try to smile as wide as you can.
Repeat this motion six times per day.
Crows Feet Around The Eyes
The fine lines that develop on the outside corners of the eyes are called crows feet. This article suggests this exercise to help eliminate them and take years off your face:
While holding your eyes open as far as they can go, stare at an object across the room.
Focus on the object for ten seconds.
Repeat this motion four times per day.
Conclusion
If you develop a regular facial exercise routine and stick to it, you will start to see improvements in the fine lines and wrinkles that happen as all of us age.
To prevent further signs of aging, always protect your skin from the sun by wearing sunscreen on your exposed skin. UV protective sunglasses will also help further crows feet and wrinkles develop around the eye area.
Always stay fully hydrated by drinking at least half of your weight in ounces of water. This will keep your skin plump and youthful in appearance.
For further reading, check out: 5 Budget-Friendly Ways To Keep Your Face Feeling Refreshed and Improve Neck Wrinkles With These 4 Tips.