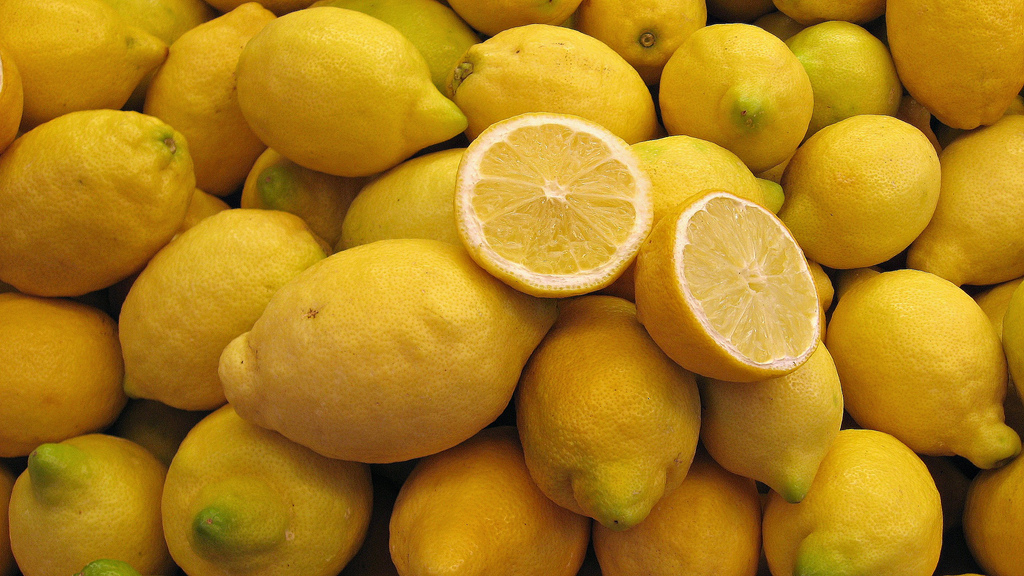 Citrus fruits, in general, are great for your skin. They are natural sources of vitamin C which helps in fighting free radicals in the body, providing you a radiant skin glow.  
Of all the citrus fruits, there's one that's usually mentioned by skincare gurus and often included in skincare products. This citrus fruit, though can be eaten, is better used for cleansing. This fruit is none other than the lemon.  
Lemons for Skincare
Lemons are one of the most popular citrus fruits. It's highly sought not just for the tangy flavor it gives to dishes and drinks but also to its multitude of uses including in household cleaning and in skincare.  
Beauty Benefits of Lemons 
The following are the beauty benefits of lemons: 
Lemons are natural remedies for skin blemishes. 
Lemons have both antibacterial properties, making them a natural remedy for skin blemishes like acne and blackheads.
To use a lemon for treating acne, simply slice one and rub on the affected site. For getting rid of the blackheads, you can apply half a slice of lemon with a few drops of honey on the affected area. Let it sit for 10 minutes before rinsing it off with cold water.


 

Lemons can get rid of oily skin. 
Lemons have unique ability to get rid of excess oil from the skin.
If you have oily skin, applying a cotton swab with a small amount of lemon juice on your face before bed is a good way of getting rid of excess oil from your skin.
You may also use lemons to come up with your own natural facial wash. You may combine it with fuller's earth, gram flour, turmeric powder, neem powder, and tea tree essential oil.


 

Lemons can lighten dark spots. 
If you have embarrassing dark spots, lemons can be your go-to solution. The citric acid from these fruits is known to lighten spots like acne scars and even your skin tone.
For pigmentation, you can use lemon and other natural skin whitening ingredients like cucumber and papaya to make your own facial mask.


 

Lemons are great natural cleansers. 
You can go all-natural with skincare without breaking your budget by using lemons as your facial cleanser.
A homemade cleanser made from lemon juice, yogurt, and essential oil like chamomile or lavender is as effective as store-bought natural cleanser in removing dirt and bacteria.


 

Lemons can reduce the appearance of age-related skin changes.  
The antioxidant action of its vitamin C as well as the exfoliating effect of its citric acid make lemons a good anti-aging agent.
To make the most of its anti-aging benefits, simply apply lemon juice on your face twice a day for 10 minutes before rinsing it off. You may also combine lemon juice and a few drops of honey.


 

Lemons make an excellent clarifying moisturizer. 
Keeping your skin moisturized is a must whether you have a normal, oily, dry, or combination skin.
Combining lemon juice and a few drops of coconut water makes an excellent clarifying moisturizer. Both ingredients can hydrate and brighten the skin with regular use.


 

Lemons are natural whitening agents. 
The vitamin C and citric acid content of lemons make them a great natural whitening agent. Hence, these fruits are commonly used for lightening tanned areas.


 

Lemons are natural exfoliating agents. 
Having dull skin can be prevented through regular use of exfoliating agents.
To use lemons for exfoliating the skin, simply apply lemon juice on your skin at night and only rinse it off in the morning. You may also mix lemon juice with water and sugar. 

 
Tips When Using Lemons for Skincare
1. Moisturize after use 
Lemon juice is highly acidic. If you're using it regularly, it can dry out your skin. This is why it's important to apply moisturizer after every use of it.
2. Dilute it with water 
Every person's response to the use of lemon juice could vary. If you're experiencing redness or irritation in the use of lemon juice alone, then try to dilute it with water.
3. Do not apply lemon juice on broken skin 
Never apply lemon juice on open cuts or wounds as it will sting. 

Oftentimes, the best products for your skin can be found right inside your kitchen. Citrus fruits like lemons are proof to that.