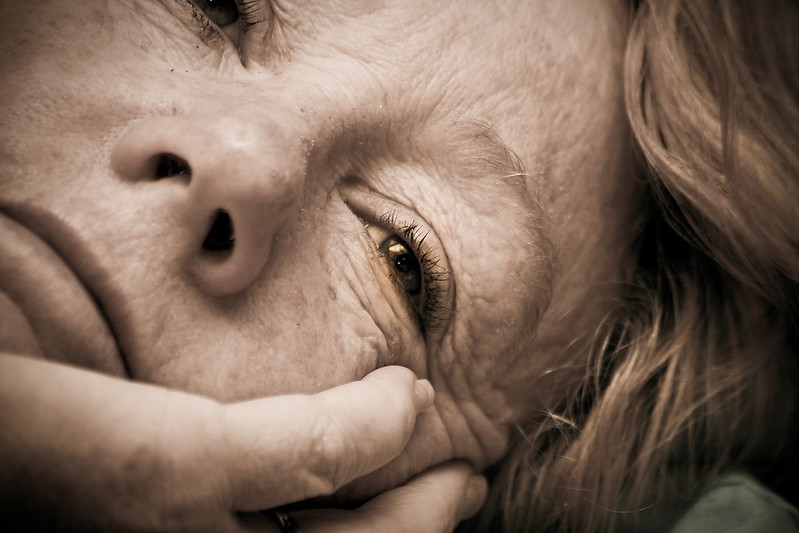 Crow's feet are the fine lines that appear around the eye as we get older. Each of us will one day have them and some of us will have more than others.
Crow's feet are also one of the first ways your skin will show your age. Hormones and genetics definitely play a part in how we age. We also show expression in our face, by smiling and talking, which will eventually create wrinkles.
Thin Skin
The skin around our eye area is thinner and there isn't as much natural oil produced in that area. The dryness combined with the thin skin, can easily create fine lines. Another major factor is that we lose collagen and elastin in our skin, as we get older.
Lack of Collagen
Collagen is a protein that naturally occurs in the body, which keeps the skin looking youthful and plump. When we age and the collagen decreases, the fullness under the skin will decrease as well.
In addition, the ability for the skin to "bounce back" is also reduced with age, due to the lack of elastin. Both of these factors contribute to fine lines, wrinkles and of course, the dreaded crow's feet.
Sun Damage
Sun damage is another factor that can greatly contribute to crow's feet. The ultra-violet rays of the sun destroy the collagen in your skin more rapidly than if you protected it with a sunscreen.
Free Radicals
We also need to protect our skin from the damage caused by free radicals, such as pollution in the air. This can be done by using topical antioxidant products as well as eating a diet that is rich in antioxidants. Some great choices are green leafy vegetables, blueberries, pure dark chocolate and almonds.
Now that we know a few ways to prevent crow's feet from developing, let's look at several ways to minimize the ones that already exist:
Hydrate Your Skin
One of the simplest ways to treat crow's feet is to keep your skin hydrated.
You need to be mindful to regularly apply hydrating cleansers, serums and eye creams around this delicate area.
You should not only focus on topical hydration, but also drink plenty of water as well. This will help plump the skin and reduce dryness. Another bonus is that being well hydrated also decreases dark circles that form around the eye.
Use Vitamin C and A
This article recommends using topical Vitamin C serum around the eye to stimulate the production of collagen. This will help plump up the area, which in turn will fill in some of the fine lines. Your skin will also appear firmer around the eye.
You may also want to try using topical Vitamin A or Retinol cream. This will aid in smoothing out the skin and help diminish the fine lines and crow's feet around the eye
Facial Exercise For Crow's Feet
Another easy way to combat crow's feet is to do facial exercises. These can be done in just minutes a day and are a great way to strengthen the facial muscles.
Try the exercise below to minimize your crow's feet:
Use your index fingers to gently press up the outer corners of the eyes, lifting the muscle. Hold that position and then try to close your eye by using only your bottom lid. Repeat this motion twenty times daily.
Conclusion
Once you get into a routine of how to properly care for your skin, you should see an improvement in your crow's feet and other wrinkles. Choosing the right products is your first line of defense. Contact a professional esthetician for the best advice for your skin type.
Stay focused on keeping your body hydrated and eat a healthy diet, rich in antioxidants. Be sure to wear sunglasses when you are outdoors to eliminate further sun damage.
For further reading, check out: How To Know If Your Facial Exercises Are Working and The Myths Behind Facial Exercising.