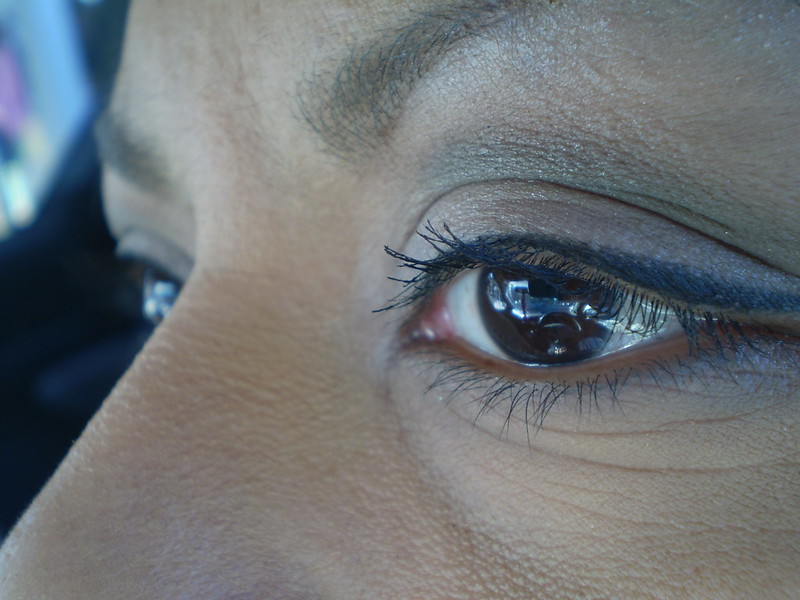 Applying liquid eyeliner can be difficult, even for the younger ones, but when you start to age, it gets harder. Those perfectly straight lines don't seem so perfect anymore.
Sagging eye skin can cause the tip of the eyeliner pen or brush to skip. When that happens, you will end up with a dotted line effect. Then, when you try to touch it up, the line will get thicker and thicker. We've all been there and it can be absolutely frustrating.
Often, we will find ourselves wiping it off and angrily starting over. Don't fret. It doesn't have to be this way.
Applying liquid eyeliner can be a breeze if you just follow a few simple steps:
Cleanse Skin
Make sure the eye area is freshly cleaned and all residual makeup is removed. You also want to ensure that any eye cream products have also been removed. You don't want to leave any oils on the surface of the skin.
Applying liquid eyeliner to skin that is dirty or coated, will cause an uneven application.
Prepare Skin
You should always use a primer to prepare the skin prior to any makeup application.
This article recommends using a combination of concealer and setting powder as a primer. There are also a number of eye primers available at cosmetic stores or in the aisle of your favorite department store.
Choose The Right Applicator
Liquid eyeliner is available with different applicators. Some have a small brush and others have a felt tip, similar to a marker.
If you have sagging or wrinkling in the eyelid area, then choosing a thin, felt tip is your best bet.
Just Wing It!
When you are starting to show signs of aging around the eye, adding a slight bit of a wing, can give your look a youthful boost.
Avoid over exaggerated eyeliner wings. Instead, focus on a slight upward "flick" of the eyeliner, on the outside corners of the eye. Doing so, will give the illusion that the eye is lifted and more open.
Choose The Right Color
As we age, dark colors will tend to look harsh against our mature skin.
Instead of using the blackest black liquid eyeliner, you may want to consider a soft black or dark gray charcoal liner instead.
Liquid Eyeliner Alternative
If you want to soften up your look entirely, you may want to opt for a different type of eyeliner altogether.
A soft tip eyeliner pencil is a great alternative. Once applied, the line can be softened up by using a flat, short bristled smudge brush.
Gel eyeliner is also an excellent option. It usually comes in a little pot and is applied with a brush. The brush should have an angled sharp point, so you can get close to the lash line. The brush shape will also help you to achieve the slight wing look, as well.
Conclusion
By implementing the ideas mentioned above, you should easily be able to create the look you've been looking for, when applying liquid eyeliner.
Keep in mind, that to keep a youthful appearance, you must also take care of your skin. You can do this by using skin care products that are dedicated to your specific skin type and needs.
Eat a healthy diet that is rich in green leafy vegetables and low in refined sugar. Be mindful to drink plenty of water, so that your body stays hydrated.
Stay out of the sun to avoid the damaging ultra violet rays. Always wear a sunscreen when you go outdoors and protect your eye area by wearing UV protectant sunglasses.
For further reading, check out: Tai Chi – The Ultimate In All Over Skin Care and Safest Lightening Creams For Aging Skin.
Image: Flickr