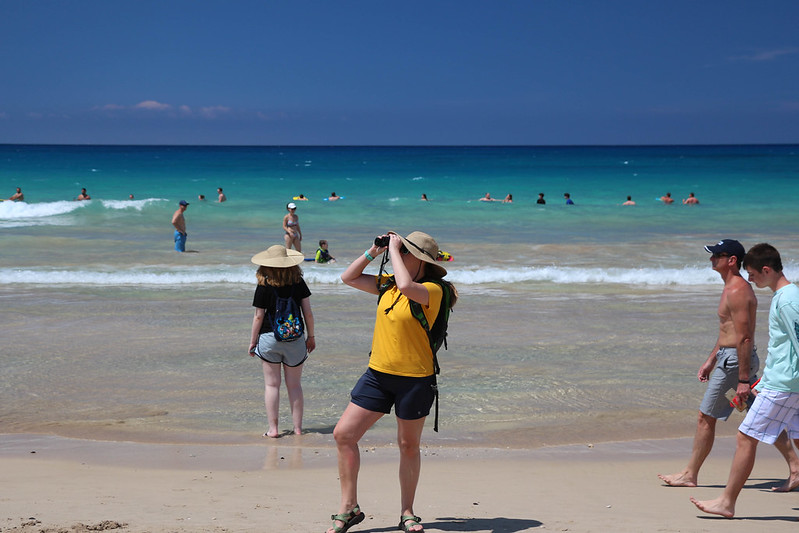 Protecting your skin from the elements, should be top priority when going on a tropical holiday.
There are very important factors that should be taken into consideration when spending extend time outdoors.
The ultra violet rays from the sun can damage your skin, which causes burning and peeling. Saltwater from the ocean or chlorine from swimming pools and hot tubs, tend to dry the skin out. Windburn can also be a factor if you spend time on speedboats or other motorized watercraft.
Let's take a closer look at how you can easily start protecting your skin from the environment:
How Does The Sun Damage Skin?
The sun can cause extreme damage to the skin, before you realize it. Many of us have experienced a sunburn from sitting out on a cloudy day. Most times, we don't even notice that our skin is burned until hours later, when it is too late.
This article describes the damage that the sun does to the skin. When you don't protect your skin, the ultra violet rays will penetrate it and destroy the elastin and collagen that keeps our skin looking firm and youthful.
After years of unprotected exposure, the skin will become very wrinkled and start to obtain a leathery appearance. The risk of skin cancer also increases with every sunburn and over exposure to the sun.
Protecting Your Skin From The Sun
So, how do you combat the risk of sun damage? The most important thing to keep in mind, is to always wear a sunscreen. The higher the SPF number, the more protection you will have from the harmful sun rays.
For instance, if you choose a sunscreen with an SPF of 30, you will be protected from the sun's rays thirty times longer than if you did not apply any sunscreen at all.
Sunscreen should be reapplied throughout the day every two hours. If you have been swimming or perspiring, you should reapply sooner.
If you spend an extended amount of time outdoors, then it is recommended that you use a 60 SPF sunscreen.
Another way to avoid the sun's rays when outdoors, is to sit in the shade, as opposed to in direct sun. Protective clothing is also an excellent option. Wear sunglasses and a large brimmed hat to protect your eyes and face.
Protecting Your Skin From Water
Saltwater has many great benefits, but it tends to dry out the skin. If you are one who already has dry skin, this could become a bother.
The best way to alleviate this, is to take a shower and wash the salt off of your skin. After drying off, apply a thick moisturizer all over your body. This should help with any flaking and dryness that you are experiencing.
The same holds true for chlorine, if you are spending time in a swimming pool or hot tub. Chlorine is a strong chemical that needs to be washed off your skin. Take a shower within fifteen minutes of getting out of the pool and apply body lotion to keep your skin from drying out.
Protecting Your Skin From Wind
According to this article, windburn and sunburn are both treated and prevented in the same way. Apply a sunscreen before outdoor exposure. After exposure, apply a hydrating moisturizer to keep skin soft.
Conclusion
Don't worry that taking these precautions will put a damper on your trip. You will find that it becomes a habit easily and you will be glad you did it. Your skin will stay healthy and you will slow the signs of aging.
For further reading on how to look younger, check out: How Facial Exercises Actually Work To Give You Firmer Skin and The Best Face Lifting Massage For Aging Skin.
Image: Flickr