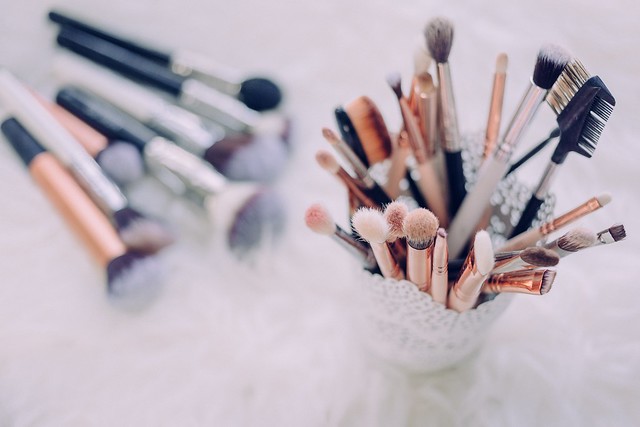 Did you realize that if you apply your makeup wrong, you can actually make yourself look older?
Once we reach fifty years old, we have all started showing the signs of aging. Putting on a lot of makeup is not the right choice, when it comes to trying to look younger. This is the point where the old saying, "less is more" comes into play.
Adding thick and heavy, dark makeup will accentuate any lines and wrinkles that have developed over the years. A lighter and more natural application will help your skin look smoother and more youthful.
While keeping this in mind, let's take a look at some important points to keep in mind the next time you visit the cosmetics counter:
Skin Care
First and foremost, you need to start at the beginning and treat your skin properly, prior to putting on your makeup.
Choose a cleanser that is formulated for your skin type. Always cleanse your face in the morning and at night to remove makeup and dead skin cells.
You may also want to consider using an exfoliating scrub once a week as well, to further remove dead skin cell build-up. When these dead cells are left on the skin's surface, it can give the skin a dull appearance.
Follow up with a toner to balance the pH, then apply an eye cream and any serums that treat your specific skin needs. Once they have been absorbed, apply your moisturizer. Be sure to apply it to your neck and décolleté area as well, which is also prone to showing signs of aging.
Always follow up with a sunscreen, which will prevent further damage and will also slow down the aging process of the skin.
Foundation
Contrary to what some may think, a thick foundation will not cover fine lines and wrinkles. It actually accentuates them. A much better solution, is to apply a light BB Cream to your face. In addition, if you use one that has a "dewey" appearance, it will give the skin a younger looking glow.
If you have discoloration that you are concerned about, such as sun spots or redness, dab a little concealer on with a makeup sponge, prior to the BB Cream.
Powder
Avoid using loose powder to set your foundation. Powdered products will settle in the skin and will make wrinkles more noticeable.
This article recommends using a setting spray as an alternative. You can use it after you apply your makeup, before you walk out the door. You won't have to worry about reapplying your makeup for the rest of the day.
Blush
When using blush, avoid the powdered type and choose a cream blush, instead. This will give the skin a fresher look and won't accentuate fine lines on the cheeks. Just dab a little onto your cheekbones with your fingers and gently blend in an upward motion.
Eyeliner
Harsh, liquid liner is not the best choice for those of us over fifty. A softer, more natural look is much more flattering.
This article suggests that the best way to achieve this is to use an eyeliner pencil and make small dashes with it at the lashline. Next, take a short, stiff brush and smooth out the dashes to soften and blend the color.
Conclusion
Following the simple steps above will help you to not apply your makeup wrong. You can avoid making mistakes that will make you look older than you actually are. Once you develop a routine, it should be like second nature to implement these new habits and your skin will look youthful for many years to come.
You should also be mindful that you drink plenty of water. Doing so, not only is good for your overall health, but it also helps to plump up the skin and keep it looking younger.
For further reading, check out: Which Facial Exercises Should You Do To Maintain Firmer Skin? and The Best Fruits And Vegetables For Making Facial Masks.