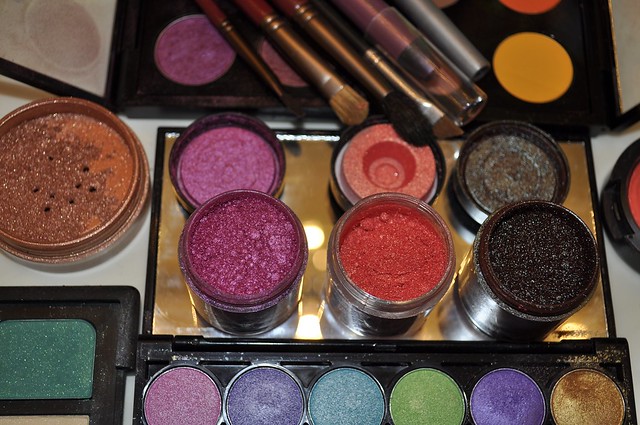 A youthful appearance can be easy to achieve. Cosmetics have never been more popular than they are today.
There is such a wide variety of products on the market, that choosing the right ones for your appearance, may be confusing.
Many of us follow You Tube influencers that post constant makeup reviews and tutorials. The drawback to that is, not everyone looks their best when following that type of advice. This is because each of us have different skin types, are of different ages and we also have unique features.
Let's take a closer look at how to apply eye makeup for a more youthful appearance:
Skin Care
Before adding any type of makeup, you must prepare the skin by following a regular skin care routine.
Choose a cleanser suited for your skin type, along with a toner to balance the pH of the skin's surface.
The next thing you want to do, is apply any eye serum or cream that you have chosen. There are many kinds of products targeted to the various issues associated with aging eyes. You may choose cream to help lighten dark circles, or a serum to reduce puffiness under the eye. You may also want a vitamin C serum to treat fine lines.
You can alternate your eye products, using some in the morning and some at night. Be sure to read the instructions that are included, so you use them correctly.
Prep The Lid
Lightly apply an eye shadow primer on the lids. This article recommends that doing so will help your makeup go on smoothly, prevent creasing and it will look great all day!
Eye Shadow Tips
If you want to give your eyelids a lift, use a light taupe shadow on the lid. Next, choose a darker color for the crease, and blend it upward, towards the brow bone. Use a light shade on a small brush to dot in the inner corners, to brighten up the eyes.
Eyeliner
You can give your eyes a "pop" by applying black or dark brown eyeliner to the top eyelid. Only apply to the outer half of the eye, to keep them looking open and youthful.
Mascara
For an added lash lift, use an eyelash curler before you apply your favorite mascara.
Two coats of mascara, from base to tip of the lashes works well. Apply a few extra strokes to the outer lashes to give your eyes a lifted appearance.
Conclusion
Being diligent with your skin care routine, along with the application tips mentioned above, will definitely create a more youthful appearance. You will look fresher, brighter and your eyes will be the center of attention.
In addition, there are various other ways to keep yourself looking young. This article lists some excellent tips!
Most importantly, you must keep your body hydrated to maintain your skin's moisture and plumpness. Also, if the body is dehydrated, there will be visible dark circles and / or bags under the eyes, which gives an aged appearance.
Facial exercise is another great way to help reduce the signs of aging. It is very simple to do and you can incorporate them into your day while you are doing other things, such as showering or driving to work. Facial exercise tones and tightens loose skin and smooths out fine lines and wrinkles on the face and neck.
Another important thing to always remember, is to always protect your skin from the harmful ultra violet rays from the sun. The sun will damage the collagen and elastin in the skin, producing premature aging, such as wrinkles and dark spots. There is also a risk of developing skin cancer when exposed to UV rays. It is always best to use a sunscreen of 30-50 SPF and wear a sunhat with sunglasses to shade your face and eyes from the sun.
For further reading, check out: Can Fish Oil Really Help Your Complexion? and Natural Anti Aging Tips That Actually Work.
Image: Flickr