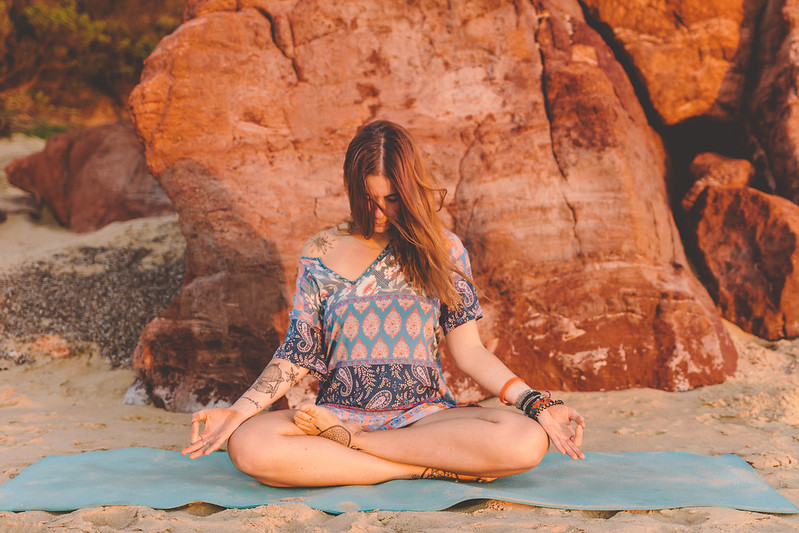 Yoga asanas for glowing skin may surprise you. Most people only consider topical treatments, when it comes to skin care.
Surprisingly, the fluid motions and poses, along with the stress reducing benefits of yoga, a more youthful appearance can be noticed in just several weeks.
Benefits Of Yoga For The Skin
This article reveals that practicing yoga on a daily basis helps the body naturally flush toxins and impurities from the system. It is beneficial in regulating the excretory and digestive system, which also helps decrease the level of toxins in the body.
Inflammation is also decreased with regular yoga practice, as shown in this study published in 2012.
Yoga will significantly reduce the stress hormone, cortisol, in the body. High amounts of stress will make the skin appear dull and will tend to age faster. When stress is reduced, the quality of sleep is increased, which also creates healthier looking skin.
Let's take a closer look at several yoga asanas for glowing skin:
Shoulder Stand
If you are suffering with acne, blemishes and fine lines, then the shoulder stand pose is for you. This pose is also called Sarvangasana. It increases the blood flow to the face, which provides oxygen and healing to the skin.
To perform this pose, lie flat on the floor, then lift your legs and torso straight up off of the floor. Support your hips with your hands and hold this position for thirty to sixty seconds. Breathe slowly and deeply and relax.
Plow Pose
This pose is also known as Halasana. It is an excellent pose to improve blood flow to the face, as well as improve the digestive system.
To perform this pose, lie flat on the floor. Slowly lift your legs together, up and over your head, until your toes touch the floor behind you. Use your hands for lower back support if needed. Hold this position for ten to fifteen seconds and then gently lower your legs to the ground.
Forward Bend
The Uttanasana pose is a simple, yet effective yoga asana for glowing skin. Blood flow is increased, which helps renew and regenerate the cells on the face, creating a younger look.
Simply stand up straight with your feet together. Raise your arms straight up into the air, then bend forward all the way at the waist. Keep your legs straight as you try to touch the floor. Hang your head and breathe slowly for one minute.
Meditation
Sitting quietly and letting your mind relax, letting go of the day's worries will reduce stress.
You can choose to meditate in the traditional Padmasana pose, where the legs are folded in front of you. You may alteratively choose to sit in your favorite chair. Breathe slowly and deeply and take as much time as you need to calm your nerves and let go of thoughts of that make you feel tense.
Conclusion
For best results, perform these yoga poses on a daily basis.
The benefits of yoga are not only seen on the skin but will benefit the entire body as a whole. It reduces stress, which can decrease the chance of developing health issues and will promote an overall feeling of happiness.
In addition to adding yoga asanas for glowing skin, eat a diet that is rich in green leafy vegetables. Stay hydrated by drinking at least half of your weight in ounces of water.
To help prevent premature wrinkles, always apply a sunscreen on exposed skin before heading outdoors. Wear sunglasses to protect the delicate skin around the eyes, which is prone to crowsfeet.
When combining yoga and other skin care routines on a regular basis, your skin will have less wrinkles and blemishes and will also appear more youthful.
For further reading, check out: How Rubbing Your Face Helps Reduce Acne and Simple Under Eye Massages To Reduce Bags.
Image: Flickr