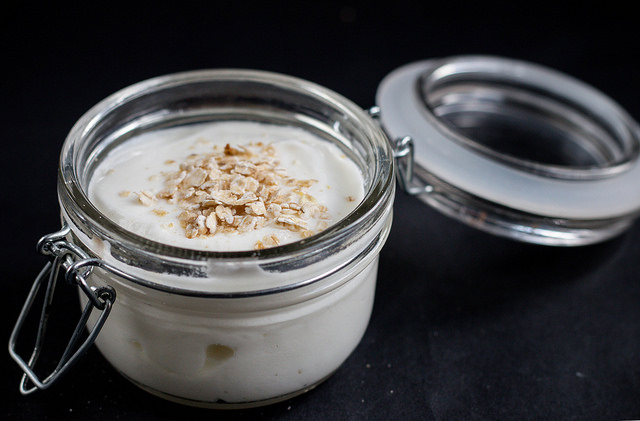 You know the feeling… When you look at yourself in the mirror one day and suddenly you notice that your skin has started sagging. It may not appear as tight and firm as you thought it was. This moment can be a real shock and it happens to everyone, sooner or later.
Your first line of defense is to replenish the skin to tighten it up again, Many of the products on the market that do this are extremely overpriced and can really put a dent in your budget.
Don't let this discourage you. You can easily obtain the same results as the expensive products by using easy home recipes for your skin. The ingredients are most likely in your pantry right now.
Let's take a look at some simple recipes for tightening sagging skin at home:
Egg White Face Mask
This mask works well, because the egg whites tighten the skin, as well as the yogurt. The sugar helps exfoliate dead skin cells. Apply this mask once a week for best results.
For this recipe, you will need:
1 egg
1-2 TB plain yogurt
1/8 tsp granulated sugar
Separate the egg yolk and the egg white. Combine the yogurt with the yogurt and sugar with a whisk or fork until well mixed.
Apply to the face in smooth upward strokes with a fan brush and let dry. For extra lift, lay with your head off the edge of the bed while it is drying.
Once the mask is completely dry and your face feels tight, gently remove it with warm water and a soft washcloth. It's like getting a mini, non-surgical facelift!
Yogurt And Oatmeal Face Mask
Yogurt contains an array of vitamins and minerals that are beneficial to the skin. These nutrients, such as: lactic acid, calcium, zinc, alpha hydroxy acids and vitamins B2, B5 and B12 can be absorbed into the skin. If your skin is healthy, it will feel firmer and appear more vibrant.
Oatmeal is excellent for all skin types, ranging from sensitive, dry and oily. It is a great soothing agent and also works well as an exfoliator and for closing large pores.
Honey is a wonderful antioxidant and will also give the skin a youthful glow. It is also beneficial for treating acne, due to its antimicrobial properties.
For this recipe you will need:
1 TB plain yogurt
1 TB oatmeal
1 TB honey
Combine yogurt and oatmeal in a bowl and let sit for several minutes to soften the oatmeal. Once the oatmeal has absorbed some of the yogurt, stir in the honey until well mixed.
Apply the mask evenly across the face and neck with your fingers and allow to dry for about fifteen minutes. Gently remove the mask with warm water and a soft washcloth.
Avocado Face Mask
If you have dry skin, this is the mask for you! The natural oils in the avocado will soften, moisturize and plump your skin, creating a more youthful appearance. The olive oil will also help your skin feel deeply hydrated and smooth.
For this recipe you will need:
½ avocado
1 TB plain yogurt
½ TB olive oil
½ TB honey
Smash the avocado in a bowl until smooth, stir in yogurt, olive oil and honey until well mixed. Apply evenly to the face with your fingers and let sit for 15-20 minutes. Gently remove with warm water and a soft washcloth.
Conclusion
Now that you have some easy recipes at your fingertips, you can start using them to firm up your skin and slow down the signs of aging. The money you save from not investing in store bought products can be put to better use.
Don't forget that incorporating facial exercise into your daily routine is another method of combating signs of aging. You can read more about it here: 10 Minute Facial Exercise That Will Help You Look Younger and How To Get That Non Surgical Face Lift Without Using Product.
Image: Flickr